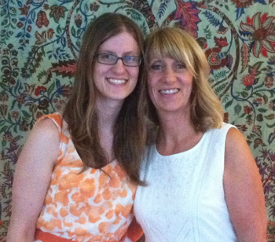 Rebekah Kopko and Susan Tokarz
Susan Tokarz, LMT, NHC is a Licensed Massage Therapist and Natural Health Consultant specializing in the art of pain release. She has been treating people of all ages with a unique blending of craniosacral fascial therapy for over 25 years. Through trained perception, she listens to your fascia system while facilitating the letting go of emotional, physical, and energetic restrictions you no longer need. She utilizes myofascial techniques to gently unravel tension and tissue restrictions in your body and restore space in your physical tissue to allow your spirit to realign with your body.
Susan earned her education in New York and established Balance Bodyworks Integrated Therapy in 1992. She has participated in extensive continuing education and is inspired by Lori Zeltwanger and Dr. Barry Gillespie. She has been an instructor, training birth practitioners in The Gillespie Approach Craniosacral Fascial Therapy (CFT), and continues to specialize in womens' health and pediatric care. Susan is honored to be an Advanced Level Myofascial Release Therapist (MFR) according to the John F. Barnes Approach.
Her daughter Rebekah Kopko LMT is also trained in John F. Barnes' Myofascial Release and instructed in Dr. Barry Gillespie's Craniosacral Fascial Therapy. She is mastering her skills gracefully, as she continues deeper levels of training with Lori Zeltwanger in Advanced Release Therapy. Her education at The National University of Health Sciences gave her a deep understanding and appreciation for natural medicine, especially the power of touch. Her unique blending of techniques brings relief to many patients who are grateful for her caring approach.
Their integration of this work allows for an effective avenue to access and treat the fascial network of bodies. Due to the nature of the fascial system, this powerful therapy influences the body's entire physiological system. Their focus is to renew and facilitate people into reaching their unique personal goals for well being.
They both strive to be trustworthy and connected. In their quest to treat the whole person, they acknowledge and give room for healing all aspects of a person's life including the physical, mental, spiritual and emotional.

Jonathan Tokarz CH, CHS is a Certified Herbalist and Health Consultant specializing in chronic and unique conditions. Consultations are available for people of all ages. Jonathan is an Independent BEMER Distributor at www.jonathantokarz.bemergroup.com. For more information you can contact him at (779) 302-6130.
To see what it looks like Craniosacral Fascial Therapy "The Gillespie Approach": http://www.gillespieapproach.com
To learn about Dr. Gillespie's work at The Family Hope Center: http://www.familyhopecenter.com/
To find out more about John F. Barnes' Myofascial Release: http://www.myofascialrelease.com
"We would love to be a part of your healing journey!"